18/05/2022
8:30 - 9:30 pm
Large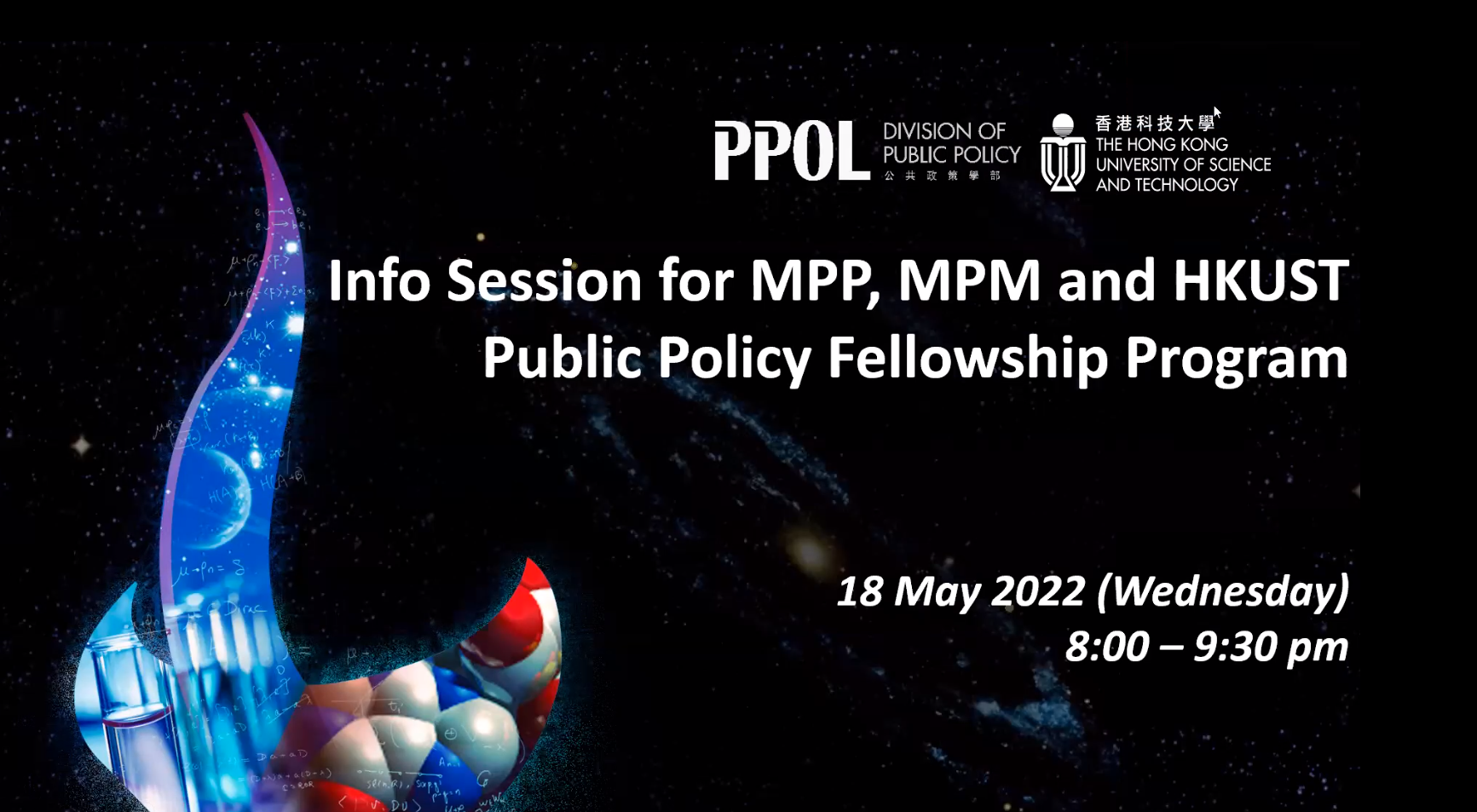 On 18 May 2022, the Division of Public Policy (PPOL) at the Hong Kong University of Science and Technology (HKUST) held an online info session about the Master of Public Policy (MPP) program, the Master of Public Management (MPM) program, and the HKUST Public Policy Fellowship Program. Around 140 guests from all over the world attended the info session. The session is organized by Professor Xun WU, Associate Director of the Interdisciplinary Programs Office (IPO). Speakers include faculty members of PPOL and alumni of the MPP and MPM programs.
The MPP and MPM programs are offered by the Division of Public Policy (PPOL) at HKUST. "Public policy is one of the university's five interdisciplinary cluster areas. Composed of world-class faculty with diverse backgrounds, PPOL aims to contribute to decision-making in the public sector with rigorous and interdisciplinary policy research and education," said Professor Kira MATUS, Associate Head of PPOL.
Professor Pengyu ZHU and alumni introduced the MPP program
The MPP program is a two-year full-time program that provides training in public policy, economics, and quantitative analysis. "We not only provide students with traditional quantitative and qualitative analysis methods, but also bring faculty members to teach state of arts analytical tools, such as machine learning and text mining," said Professor Pengyu ZHU, Co-Director of the MPP program, "We recruit students with different backgrounds, including business, humanity, social science, engineering, mathematics, and physics." Potential careers of MPP graduates include analysts, administrators, managers, consultants, and policy researchers in both the public and private sectors.
The degree requires the completion of 48 credit hours (most courses are 3 credit hours). 24 credits are core courses. The other 24 credits are a broad range of electives offered by various schools. Taking relevant electives, students can choose to declare the Environmental and Sustainability Policy Concentration or the Science and Technology Policy Concentration.
"During the first year, there are many compulsory courses. However, in the second year, students are given a lot of freedom to fill their curricula with attractive elective courses," said Jungjoon PARK, an MPP graduate who is now doing his internship at CDP Worldwide (Hong Kong). "Students can even take courses offered by other programs in justified cases," Hanz Charles PONCE ACOSTA, a current student who was previously a Tax Auditor at the Peruvian Tax Office, added.
Another critical component of the MPP program is the Client-Based Policy Analysis Project. It aims to provide students with an engaging and professional experience. It is a year-long project for which students work in teams of three to five people on challenging issues facing real-world organizations. "You will work with experts in the area of the Capstone Project. This is one of the very rewarding experiences you can gain here." Said Samuel WU, a current MPP student. He is also doing his internship at the Hong Kong Monetary Authority (HKMA).
Besides, students can pursue various internship opportunities, e.g., temporary jobs in HKMA, Deloitte, KPMG, PwC, SenseTime, Bilibili, Meituan Group, Agricultural Bank of China, and CITIC Security. Internships help students clarify their career directions and enable them to establish professional networks. "I did my consulting internship at KPMG, and I know many of my friends did internships in management consulting and strategy consulting." Samuel commented, "the program also provided a lot of career development training."
Professor Donald LOW and a current student introduced the MPM program
The MPM program is designed for mid-career professionals with at least 3 years of full-time work experience. It provides students with an interdisciplinary study that draws from public administration, leadership, policy analysis, economic analysis, and strategic management. "Upon graduation, graduates will be able to deploy the relevant policy analysis and public management skills in various contexts," Said Professor Donald LOW, Program Director of the MPM program.
"Students have two options, one is to do the program full-time and finish in one year. Like me and my fellow classmates who have full-time jobs, we choose the part-time mode and will take two years to finish the program." Said Celia IP, a current MPM student with over 10 years of work experience in institutional advancement and external relations.
The degree requires the completion of 27 credit hours (most courses are 3 credit hours), comprised of 18 credits of core courses and 9 credits of electives. "So far, I have taken four courses. I find them very helpful in developing my analytical skill set and broadening my insight." Celia indicated, "Apart from the courses offered by PPOL, students can choose elective courses offered by other schools, e.g., the business school and the engineering school."
Scholarships for MPP and MPM students
HKUST Public Policy Fellowship Program
The HKUST Public Policy Fellowship Program aims to attract outstanding students worldwide to pursue taught postgraduate programs in public policy and management at HKUST. Successful applicants would have excellent academic and professional achievements. The fellowship is open to eligible applicants from all countries. We especially welcome applicants from the Belt and Road countries. The fellowship will cover the full tuition fees (HK$280,000 for the MPP program and HK$150,000 for the MPM program) and provide an annual allowance.
PPOL Admission Scholarships
Subject to funding availability, all successful applicants who are given admission offers to the TPg programs will be considered for assessment for the Admission Scholarship of up to 50% of the tuition fee. The PPOL Postgraduate Committee will evaluate the applicants' profiles, including their academic performance, working and internship experiences, extra-curricular activities, comments from their professors, etc.
Academic Excellence Scholarships
A merit-based scholarship of HK$20,000 will be offered to top students of each cohort per academic year. Students should have completed two consecutive regular terms in the same academic year with a year-end CGA of 3.50 or above.
UGC Targeted Taught Postgraduate Programmes Fellowships Scheme (For MPP LOCAL applicants only)
Local students admitted to the MPP program will be invited to submit applications for the fellowships. Students receiving other forms of government scholarship (except student financial assistance) for pursuing the same program will not be considered. The fellowship students are required to pay a minimum tuition fee of HK$42,100, and the differences will be subsidized by the fellowships subject to a cap of HK$120,000.
Deadline for Application (for both MPP and MPM)
Round 1: November 30, 2021
Round 2: February 28, 2022
Round 3: May 31, 2022 for non-local applicants of the MPP and MPM programs
June 30, 2022 for local applicants of the MPM program.
Review of applications has already started. Due to keen competition, early applications are strongly recommended
For Enquires, please contact the HKUST Division of Public Policy at ppolpr@ust.hk.
On 18 May 2022, the Division of Public Policy (PPOL) at the Hong Kong University of Science and Technology (HKUST) held an online info session about the Master of Public Policy (MPP) program, the Master of Public Management (MPM) program, and the HKUST Public Policy Fellowship Program.
False